Advantages:
Belgian chocolate is famous for its high quality and taste, as well as stimulates the "hormone of happiness", a beneficial effect on brain activity and improves mood;
free of palm oil, preservatives & colorants;
do not contain GMO and cholesterol;
low sodium.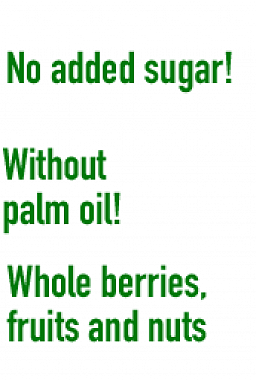 Ingredients:
Crispy baked muesli (whole grain oatmeal, cane sugar, sunflower oil, cocoa powder, rice and wheat flour, barley malt, whole wheat flakes, dried coconut, honey, salt), Belgian dark chocolate (cocoa liquor, cane sugar, cocoa butter , emulsifier natural soy lecithin, natural vanilla)
Mass:
400 g
Storage conditions:
Store at a temperature not more than 25C° and relative humidity not more than 75%. Open the package store tightly closed, in a dry place. It is recommended to use fully within a month as the product absorbs moisture.
Shelf life:
1 year
Nutritional value for 1 serving (40 g), % share of average daily requirement
Carbohydrates
24,1 g (6,6 %)
Alimentary fiber
3,2 g (10,8% )
Отзывы покупателей на товар: Гранола (Мюсли) Bionova® Шоколадная 400г





Очень понравились эти мюсли. Приятно удивило, что в составе очень много натурального шоколада. Порадовало, что в составе все ингредиенты полезные и натуральные. Поскольку нет вредных веществ, эти мюсли можно давать и детям. Благодаря шоколаду и вкусным злаковым, мое настроение всегда улучшается. Сохранять радость очень важно, ведь не зря в одной мудрой книге сказано: "Радостное сердце благотворно, как лекарство". В наше тревожное время необходимо иметь положительный настрой. Буду и дальше покупать эти мюсли.





Очень вкусно, но почему в разделе "без сахара" , а в составе есть сахар





Не ожидала, что будет столько много шоколада, приятно удивлена. Где то читала, что рекомендуют заливать теплым молоком - правда очень вкусно, когда шоколадки начинают таять
Оставить отзыв