Advantages:
pumpkin seeds, cranberries and apples are rich in vitamins C, B, E, a and pectin, which removes toxins and protects the body from adverse environmental impacts. Careful vacuum drying of fruits at low temperature allows to preserve their useful properties;
no added sugar;
free of palm oil, preservatives & colorants;
15% less calories compared to other muesli made with added sugar and palm oil;
do not contain GMO and cholesterol;
low sodium.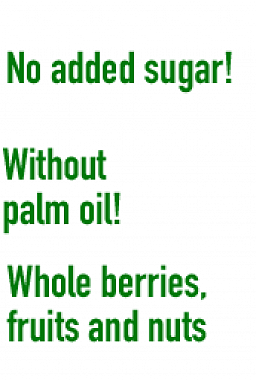 Ingredients:
Crispy baked muesli (whole grain oat flakes, vegetable dietary fiber, oat and wheat bran, wheat and rice flour, sunflower oil, natural erythritol sweetener from vegetable raw materials, barley malt, salt), pumpkin seeds, dried apples and lingonberries, cinnamon. Contains sweetener.
Mass:
400 g
Storage conditions:
Store at a temperature not more than 25C° and relative humidity not more than 75%. Open the package store tightly closed, in a dry place. It is recommended to use fully within a month as the product absorbs moisture.
Shelf life:
1 year
Nutritional value for 1 serving (40 g), % share of average daily requirement
Carbohydrates
19,7 g (5,4%)
Alimentary fiber
8,7 g (29%)
Отзывы покупателей на товар: Гранола (Мюсли) Bionova® без сахара Яблочная 400г