Advantages:
in BlackBerry, blueberry and strawberry contains vitamins a, B, C, PP, E, K, beta-carotene, a huge amount of minerals that support the immune system, especially when beriberi. Careful vacuum drying of berries at low temperature allows to preserve their useful properties;
no added sugar;
free of palm oil, preservatives & colorants;
15% less calories compared to other muesli made with added sugar and palm oil;
do not contain GMO and cholesterol;
low sodium.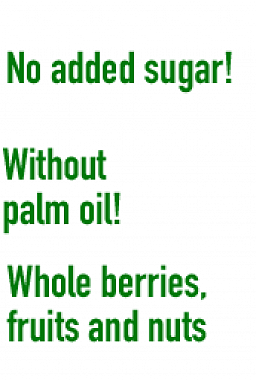 Ingredients:
Baked crispy muesli (whole grain oat flakes, vegetable dietary fiber, oat and wheat bran, wheat and rice flour, sunflower oil, natural erythritol sweetener - from plant materials, barley malt, salt), dried berries: strawberries, blackberries, blueberries
Mass:
400 g
Storage conditions:
Store at a temperature not more than 25C° and relative humidity not more than 75%. Open the package store tightly closed, in a dry place. It is recommended to use fully within a month as the product absorbs moisture.
Shelf life:
1 year
Nutritional value for 1 serving (40 g), % share of average daily requirement
Carbohydrates
20,1 g (5,5%)
Alimentary fiber
9,2 g (30,5%)
Отзывы покупателей на товар: Гранола (Мюсли) Bionova® без сахара Ягодная 400г





Купила первый раз попробовать и влюбилась! Ну очень вкусная гранула! Сытная, приятно хрустит. Теперь буду пробовать другие вкусы!Спасибо за крутой завтрак!





Отличная гранола. Покупаю сразу несколько пачек, так как ест вся семья! Ягод очень много, что радует - раньше покупали другого производителя, так там ягод было в половину меньше.





Отличный вариант для завтрака. Радует, что без сахара. Вся семья довольна - покупаем постоянно





Самая вкусная гранола в мире! Ягоды крупные, как настоящие!
с миндальным молоком просто бомба!
Оставить отзыв