Chicory Ol'Light traditional 100g
SKU: 05040494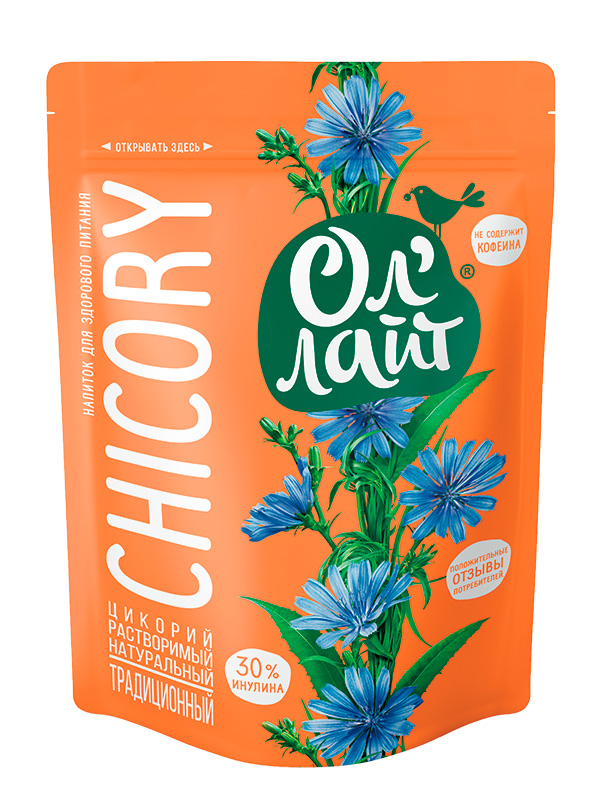 Chicory traditional-a hot drink for a healthy diet, made from 100% chicory roots grown and processed by a unique production technology.

Chicory OL'LIGHT\u00ae is a source of vitamins, minerals and inulin, which are so necessary for modern residents of megalopolises seeking to lead a healthy lifestyle.
Advantages:
Contains inulin-vegetable dietary fiber which improves intestinal microflora, stimulates growth and activity of bifidobacteria, improves absorption by an organism of calcium;
In one portion of the drink – 60% of the daily rate of inulin. The amount of inulin consumption recommended by the Institute of nutrition of RAMS per day is 2.5 g, which corresponds to 5 teaspoons of soluble chicory OL'LIGHT®;
Caffeine free, does not raise blood pressure;
Does not contain GMO;
Gluten-free.
Ingredients:
Instant chicory powder.
Mass:
100 g
Storage conditions:
Store at a temperature not more than 25C° and relative humidity not more than 75%. Store the opened jar tightly closed, in a dry place. It is recommended to use fully within a month, as the product absorbs moisture.
Shelf life:
2 years
Cooking method:
2 to 3 teaspoons put in a Cup and pour hot water to taste, add sugar, fructose or other sweeteners, milk, cream or their substitutes.
Nutritional value per 1 serving (5 g), % share of average daily requirement
Carbohydrates
3,0 g (1,0%)
including inulin
1,5 g (60,0%)
Отзывы покупателей на товар: Цикорий Ол'Лайт® традиционный 100г