Box with bars Bionova® №10 - 24 pcs.
SKU: 01060431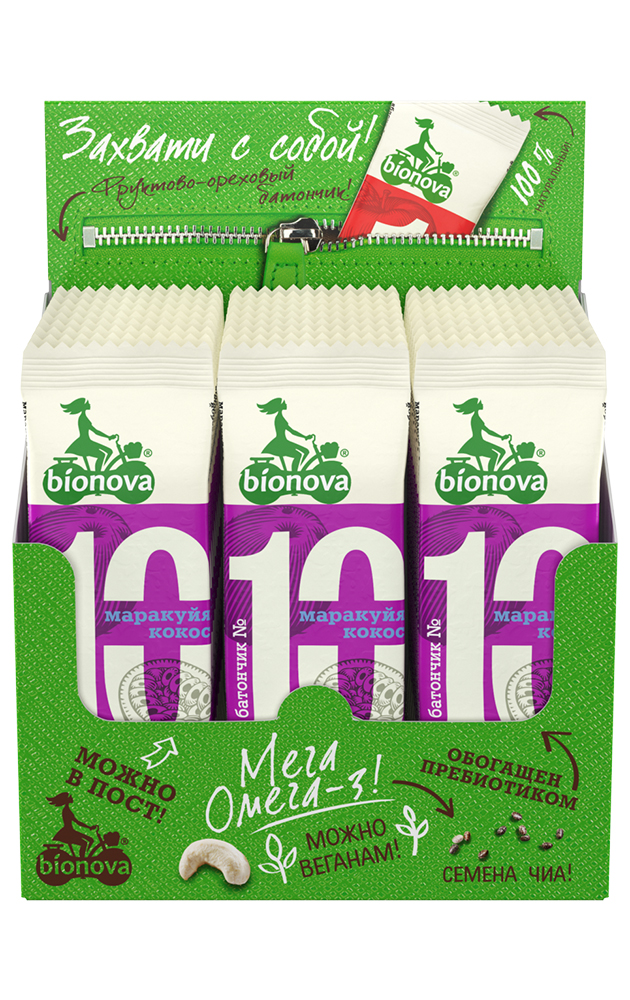 Take it with you to a trip! Make your impressions more delicious! Bad weather? Enjoy the sun in our bars!
Are you going to scale new heights? Exotic bar with passion fruit and coconut will add vivid impressions. The essential snacks anywhere in the world!
Box with 24 pieces of Bionova® №10 Passion Fruit & Coconut bars.
Advantages:
100 % natural product;
GMO-free, gluten-free, cholesterol-free, soy-free;
No sugar, no flavors, no preservatives and no dyes;
High content of dietary fiber;
High content of omega-3 polyunsaturated fatty acids;
Contains natural prebiotic INULIN, which stimulates the growth and activity of bifidobacteria;
Suitable for vegans;
Can be used while Fast;
Convenient to take with you.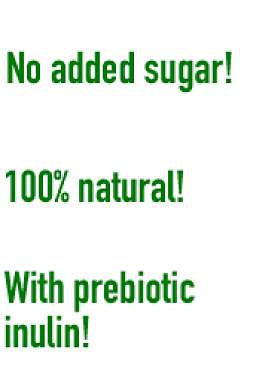 Ingredients:
Dates dried, cashew, raisins, food fiber from chicory-inulin, coconut chips, granules of natural juice passion fruit freeze-drying, Chia seeds. The product may contain bone fragments.
Mass:
35 g.
Storage conditions:
Store at a temperature not exceeding 25 °C and relative humidity not exceeding 75 %.
Shelf life:
1 year.
Nutritional value per 1 bar (35 g), % share of average daily requirement
Carbohydrates
21,0 g (5,8%)
Energy
480 kJ (120 kcal) (4.8%)
Alimentary fiber
4,5 g (15,0%)
including omega-3 fatty
0,14 g (7,0%)
including inulin
2,5 g (100,0%)
Phosphorus
52,5 mg (6,6%)
Potassium
266,7 mg (7,6%)
Manganese
0,33 mg (16,5%)
Vitamin B1
1,1 mg (78,6%)
Отзывы покупателей на товар: Фруктово-ореховые батончики Bionova® Бокс №10 - 24 шт.