Advantages:
100 % natural product;
GMO-free, gluten-free, cholesterol-free, soy-free;
No sugar, no flavors, no preservatives and no dyes;
High content of dietary fiber;
High content of omega-3 polyunsaturated fatty acids;
Contains natural prebiotic INULIN, which stimulates the growth and activity of bifidobacteria;
Suitable for vegans;
Can be used while Fast;
Convenient to take with you.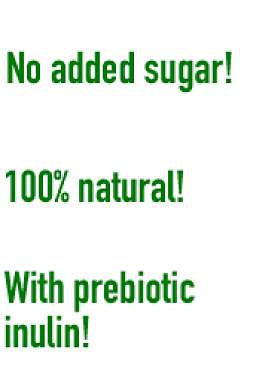 Ingredients:
Dates dried, raisins, cashew, food fiber from chicory-inulin, dried Apple, granules of natural blueberry juice freeze-drying, Chia seeds. The product may contain bone fragments.
Mass:
35 g.
Storage conditions:
Store at a temperature not exceeding 25 °C and relative humidity not exceeding 75 %.
Shelf life:
1 year.
Nutritional value per 1 bar (35 g), % share of average daily requirement
Carbohydrates
23,0 g (6,3%)
Energy
530 kJ (130 kcal) (5.2%)
Alimentary fiber
4,0 g (13,3%)
including omega-3 fatty
0,14 g (7,0%)
including inulin
2,5 g (100,0%)
Phosphorus
58,1 mg (7,3%)
Potassium
244,0 mg (7,0%)
Manganese
0,31 mg (15,5%)
Vitamin B2
1,0 mg (62,5%)
Отзывы покупателей на товар: Фруктово-ореховые батончики Bionova® Бокс № 4 - 24 шт.