Flakes with fruits "Apple" 300g
SKU: 05020454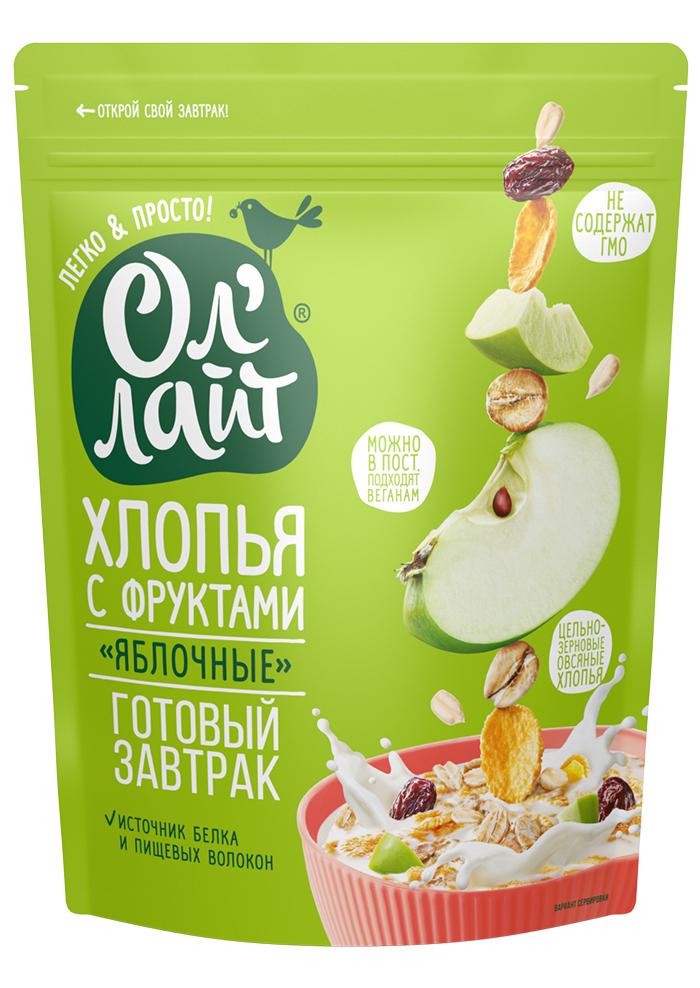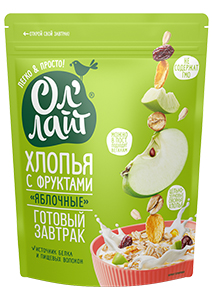 Dry breakfasts. Flakes with fruit "Apple" are whole grain oat flakes with the addition of corn flakes and fruits retain all the benefits of selected oat grains rich in protein, vitamins and minerals. They are a source of β-glucan, which normalizes the level of cholesterol in the blood, has a beneficial effect on digestion and strengthens the immune system.

Add regular or vegetable milk, kefir or yogurt to cereal with fruit, and you will get an excellent breakfast dish - a source of strength and energy for a long period of time.

Advantages:
Prolonged feeling of satiety - a source of protein, dietary fiber and slow carbohydrates;

Source of beta-glucan: lowers cholesterol, improves immunity, improves digestion;

Delicious, ready-to-eat product in convenient packaging;

Whole Grain Cereals - ALL the benefits of cereals;

Do not contain GMOs and cholesterol;

Contains natural dietary fiber - fiber;

It is possible during the fast;

Suitable for vegans.
Ingredients:
whole-grain oat flakes, corn flakes (corn grits, sugar, salt), raisins, sunflower seed kernels, dried apple.
Mass:
300 g
Storage conditions:
Store at a temperature not exceeding 25 ° C, relative humidity not exceeding 75 %. Open package store in a dry place. It is recommended to use within a month
Shelf life:
1 year
Nutritional value for 1 serving (40 g), % share of average daily requirement
Carbohydrates
24,2 g (6,%)
Alimentary fiber
1,8 g (6,0%)
Отзывы покупателей на товар: Хлопья с фруктами «Яблочные» 300г