Box traditional chicory Chikoroff® - 10 servings
SKU: 02040533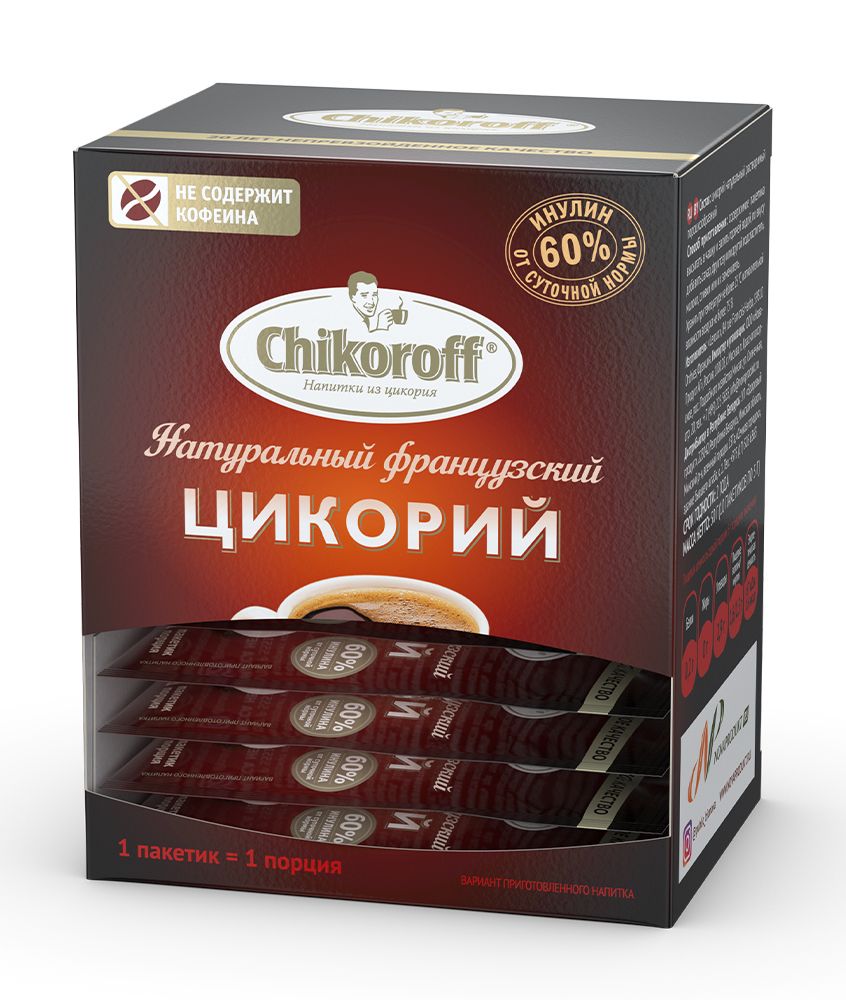 Chicory natural soluble powder is a hot drink for a healthy diet, made of 100% chicory roots grown and processed by the unique production technology of LEROUX\u00ae, founded in 1858 (France).
CHIKOROFF\u00ae passed the expertise of the Institute of nutrition of RAMS and is included in the «Register of food products used in the nutrition of children and adolescents in organized groups of Moscow.»
CHIKOROFF\u00ae comply with GOST R 55512-2013.
Advantages:
Does not contain caffeine, does not increase blood pressure;
Contains inulin - a vegetable fibre (1 sachet = 60% of the inulin daily value) which:
- improves intestinal microflora;
- stimulates the growth and activity of beneficial bifidobacteria;
- improves the absorption of calcium by the body;
Contains vitamins & minerals;
It is allowed to use in the diet of school-age children;
Does not contain GMOs;
Gluten-free.
Ingredients:
Chicory natural instant powder.
Mass:
50 g
Storage conditions:
Store at a temperature not exceeding 25° C and relative humidity not more than 75%. It is recommended to immediately use the contents of the bag, as the product absorbs moisture.
Shelf life:
2 years.
Cooking method:
The contents of the bag pour into a Cup, pour hot water, add sugar or sugar substitute and milk to taste.
Nutritional value per 1 serving (1 sachet - 5g), % share of average daily requirement
Отзывы покупателей на товар: Бокс традиционного цикория Chikoroff® - 10 порций